Community Foundation of Volusia & Flagler Honors Nancy & Lowell Lohman with its 2019 Herbert M. Davidson Award
Tue, Nov 26, 2019 at 1:25PM
---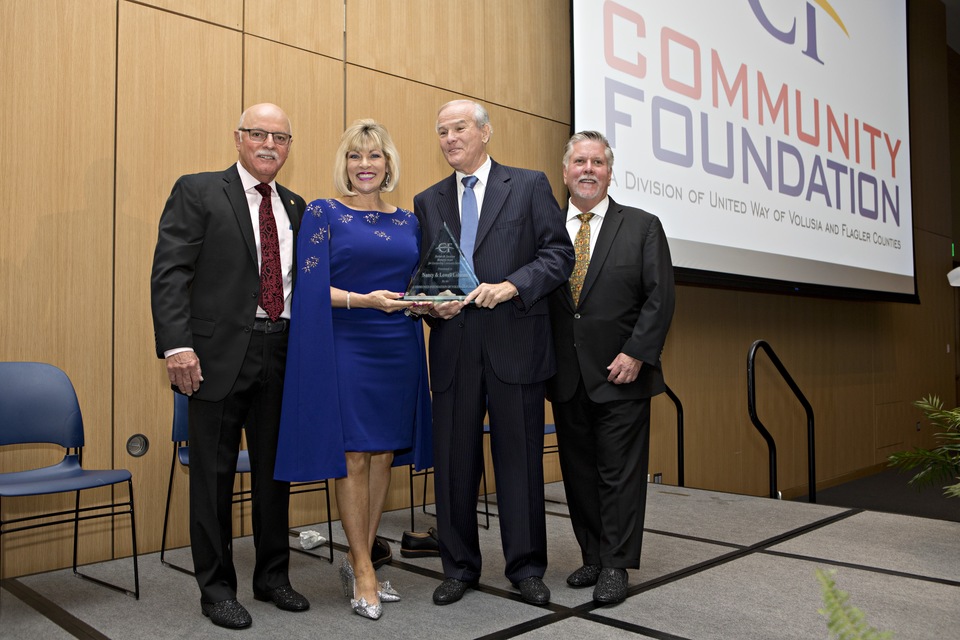 The Community Foundation of Volusia & Flagler honored community leaders and philanthropists Nancy & Lowell Lohman with its coveted Herbert M. Davidson Memorial Award for Outsanding Community Service at its annual banquet event on Oct. 3. The presentation took place in a sold-out venue at the Mori Hosseini Student Union Center at Embry-Riddle Aeronautical University to an enthusiastic and appreciative audience. Also honored with the Community Foundation's Young Leader's Award was business leader and community volunteer, Nellie Hosseini Lupoli.
The Lohmans are best known as successful developers and operators of funeral homes and cemeteries throughout the region. Lowell has owned businesses individually and with his family including his wife nancy, his sons Ty and Brian and his brothers Victor and Daryl over the course of his 50-year career.
Nancy Lohman has also been recognized for her work in the funeral home and cemetery profession and in the community. Today, having sold their funeral homes and cemeteries, the Lohmans are developers of rental properties and have expanded their philanthropic activities to a transformative level in the community. Most recently, they organized the Halifax Humane Society Capital Fund Drive and provided major gifts to both the Humane Society and the Council on Aging to support programs that care for the community's aging population. They have collectively donated more than $4 million to local charities along with Nancy's alma mater, including a donation of $100,000 to support the Foundation's Herbert M. Davidson Award, the largest unrestricted gift of its kind in the 27-year history of the event, the net proceeds of which are designated to benefit the Community Foundation.
The Herbert M. Davidson Memorial Award for Outstanding Community service was created by the Community Foundation in 1992 to honor individuals who have offered exceptional levels of service to the community.
Former United States Congressman John Mica, the 2017 recipient of the award, commented on the legacy of Herbert M. Davidson. "It is named for the late Herbert M. Davidson, former publisher of the Daytona Beach News-Journal. Davidson was a community leader, a business leader, a journalism pioneer, a civil rights leader, a patron of the arts, and a philanthropist. To say that it is an honor to receive this award is an understatement."
Following the Lohman's leadership example was the recipient of the Community Foundation's Young leader's Award, Nellie Hosseini Lupoli. Nellie is VP of Human Capital & Strategic Initiatives for ICI Homes. She is the Vice Chair of the Food Brings hope Organization and serves on the Boards of the Daytona Regional Chamber of Commerce, Team Volusia, and ERAU's Eagle Athletic Association.
The Community Foundation of Volusia & Flagler is a division of the United Way of Volusia –Flagler, and manages a family of funds that connect people who care with causes that matter. Through customized partnerships with the Foundation, local philanthropists can leave a legacy of lasting significance to build a better a future for our home community.