A Focus On Education
We all succeed when a child succeeds in school. A quality education is the basis for personal and community success.
United Way invests in programs that help children and adults succeed in school and in live.
Local Programs & Initiatives:
United Way Partner Agencies focusing on Education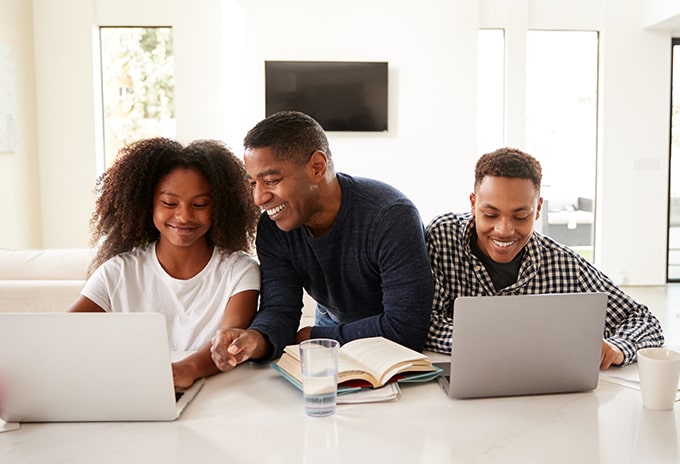 98%
Of Clients Achieved On-Time Grade Promotion
11,721
Children Achieved Developmental Milestones
5,232
Children tested for Readiness Assessment
Success Stories
Explore the stories of those who have been forever changed by the work of the United Way thanks to your support.
A Home for Her Family
icon
Homeownership is the basis for the "American Dream" and for many community members, it can seem unattainable. United Way's Campaign for Working Families partners with the Southwest Volusia Chapter of Habitat for Humanity to produce Money Smart classes and savings programs for low income families seeking homeownership. One such client is Patrice McDowell, a working single mother that was referred to the Southwest Volusia Chapter of Habitat for Humanity.
To prepare for homeownership and to build a stable financial foundation, Patrice was required to attend Money Smart workshops, one-on-one counseling, and to complete over 250 volunteer hours. Patrice attended all workshops and completed all required training within her first year in the program. At the start of her journey, Patrice had only $980 in savings and had a credit score of 597. Thanks to Money Smart classes, in just one year, she managed to improve her credit score to 621 and she increased her family's savings to $5,950 through monthly contributions and allocating her tax refund towards savings. She was also able to pay off approximately $2,400 in debt! Patrice and her family were able to move into their new home in August of 2013 thanks to her hard work, the amazing group at Habitat for Humanity and the skills she learned through United Way's Campaign for Working Families.
A New Way to See the World – From Desperation to Hope
icon
Most of my life, I had great vision. I guess you could say I took my ability to see for granted. I worked as a sales representative for a major medical company and traveled all over the US promoting their products; I lived a very fast-paced life as a career woman and single mom.
About 3 years ago, I woke up one Sunday morning with no vision in one eye. It was as if someone had just turned off the lights in my left eye. My doctor said that diabetic retinopathy had caused a major hemorrhage and the blood was blocking my vision. Surgery was planned later that week to remove the blood, but before I could go into surgery, I lost the vision in my other eye. I suddenly learned what it was like to be blind.
After several unsuccessful surgeries to restore my vision, my doctor suggested that I take steps toward disability for legal blindness. I had to resign from my position and move closer to my family for help. My mother had to prepare all my meals and feed me like a toddler since I could no longer see my plate. I was devastated and felt like my life was over.
Luckily, I discovered the Center for the Visually Impaired in Daytona Beach. Almost immediately, my life started to change. I signed up for the Job Readiness Program and began to learn how to use my computer again. I then took additional courses to sharpen my skills, and learned how to search the web for job openings. In another course, I learned about all the assistive technology to help me prepare my own meals. I even learned how to walk with a cane and further mobility training prepared me to apply for a guide dog. I have been with my guide dog Alley for 7 months and we are inseparable; she makes it possible for me to be independent. The Center helped me find a contract management job in a call center.
I went from having my vision and a very successful career to total devastation and despair. Today, I am feeling hopeful. Thanks to the Center for the Visually Impaired I am a confident, independent member of society once again.