Herbert M. Davidson Award Honoring Preston Root
Thu, Apr 28, 2016 at 6:00PM
---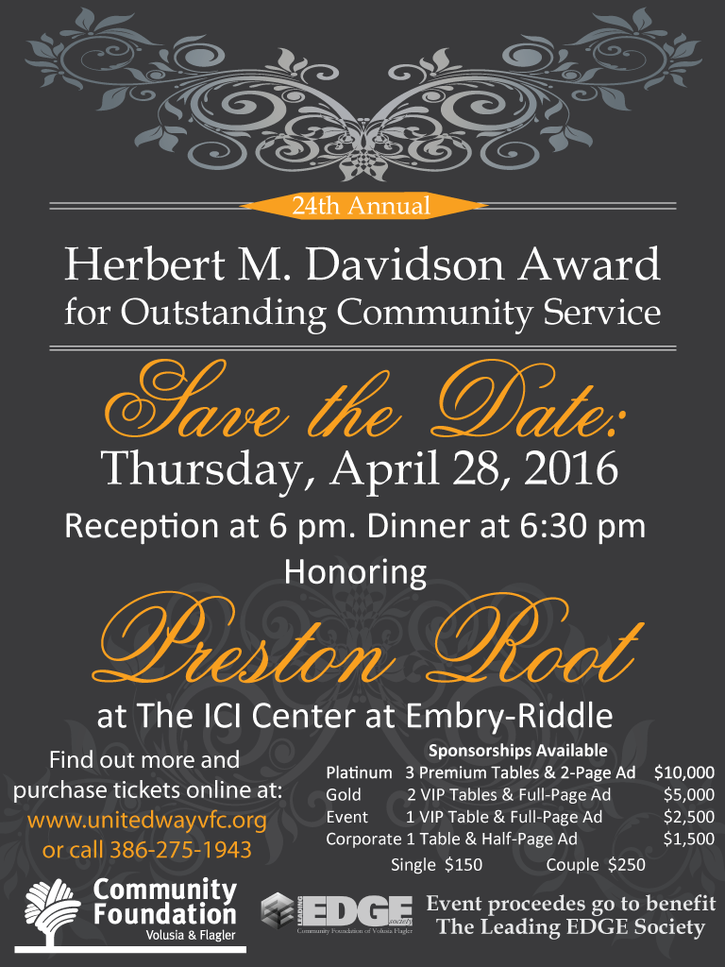 To purchase a sponsorship, please contact Bill Ward.
Community Foundation to Honor Preston Root
The Community Foundation of Volusia & Flagler, a division of the United Way of Volusia-Flagler Counties, is pleased to announce Preston Root has been selected as the 2016 recipient of the Herbert M. Davidson Memorial Award for Outstanding Community Service.
Preston Root is the president of the Root Family Foundation, a family run foundation that helps children with critical needs. The Root Family Foundation has supported an array of arts, education, and youth initiatives in their communities since its Founding in 1884, over 130 years!
Born in Daytona Beach, Mr. Root has been a life-long resident of the area. He grew up in the shadows of the Daytona International Speedway, watching NASCAR races since 1966. In 1984 his professional career took on the responsibilities of radio announcing for WNDB Radio. After 13 years with WNDB, Preston joined MRN Radio, America's largest independent radio network. He built a reputation as a passionate and insightful motorsports broadcaster, his voice becoming recognizable to millions of racing fans worldwide. After a career of motorsports broadcasting he retired to pursue his passion for philanthropy in our community.
Preston serves as a board member of the Community Foundation of Volusia & Flagler, and chairs the foundation's 'Leading EDGE Society.' EDGE (Every Dollar Gets Empowered) is designed to encourage more charitable partnerships to improve the community's overall quality of life.
"Preston has been a tireless advocate of our community's welfare, promoting the reality of our home area as a place where leaders pull together to advance the common good of all its citizens," said Ali Kargar, chair of the Community Foundation of Volusia & Flagler. "Preston's good works in United Way'scommunity impact areas of health, education and income is a great example of volunteer leadership for the future."
During his broadcasting career and subsequent work in building charitable initiatives, Preston has served in many leadership capacities outside of the family business, including active service on the Board of Directors of The Arc of Volusia, and the Boards of the Museum of Arts and Sciences, YMCA, and the Halifax Humane Society. He serves as a director for Halifax Health Foundation as well as Stetson Family Enterprise Center. His passion and knowledge for family businesses are evident by his many speeches to family offices.
This year will mark the 24th annual presentation of the Davidson Award since its inception. It is presented to recognize individuals who have demonstrated a career of exceptional service to our community. The award dinner will be held Thursday, April 28 at 6:00 PM at the ICI Center of Embry-Riddle Aeronautical University.
Ticketing and sponsorship information available at: https://hmd2016.eventbrite.com
For more information, contact Bill Ward, Community Foundation Director, at 386-275-1943.
The Community Foundation of Volusia & Flagler connects people who care with causes that matter. Established in 1983, the Community Foundation of Volusia & Flagler is a tax-exempt, public charitable organization and a division of United Way of Volusia-Flagler Counties, Inc. By providing a gateway to giving, the Foundation empowers charitable individuals to realize their personal philanthropic goals and strengthen our community forever.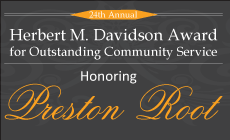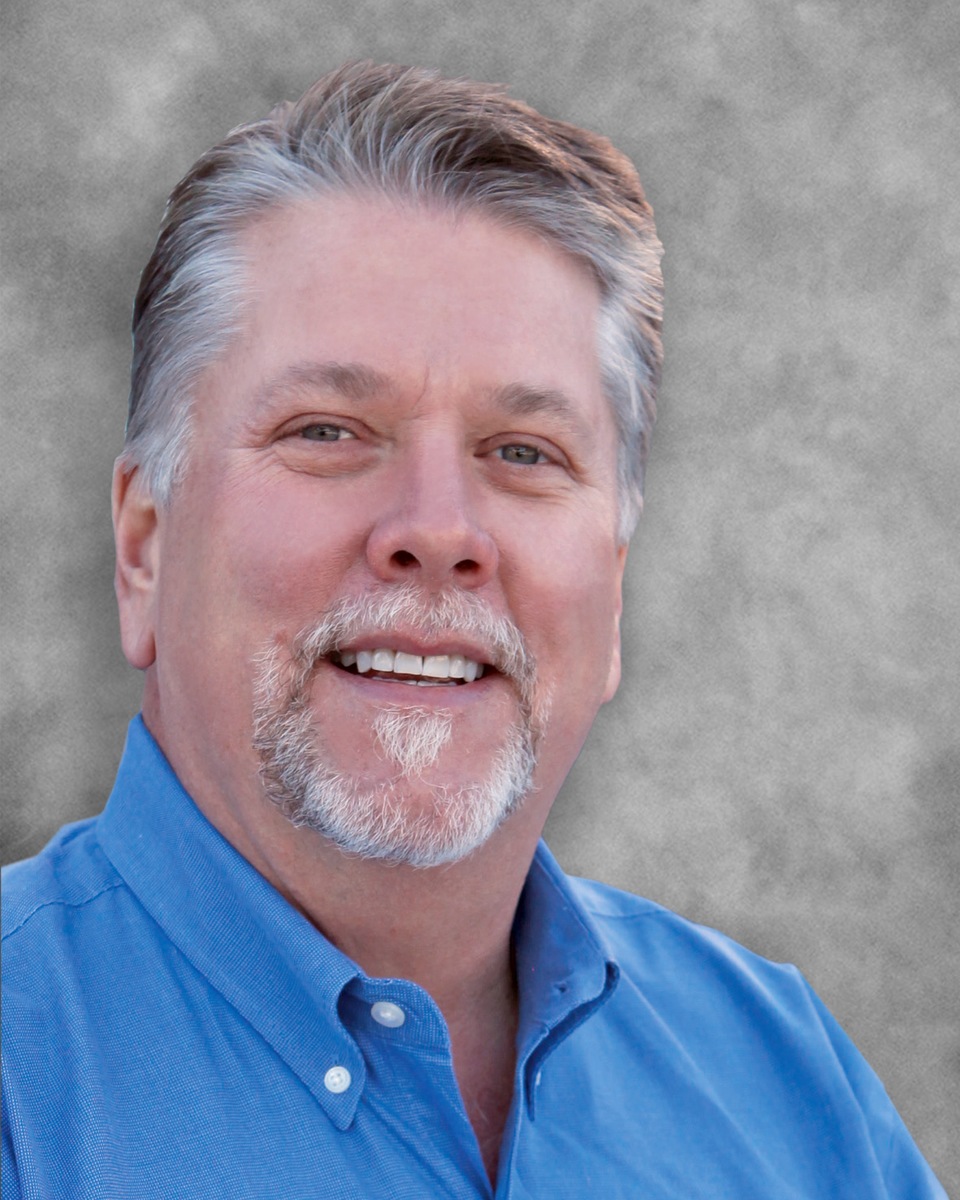 ---
Bookmark & Share
---
User Comments
Be the first to comment on this post below!