AT&T donates $8,500 to United Way VFC
Sun, Sep 11, 2016 at 9:15AM
---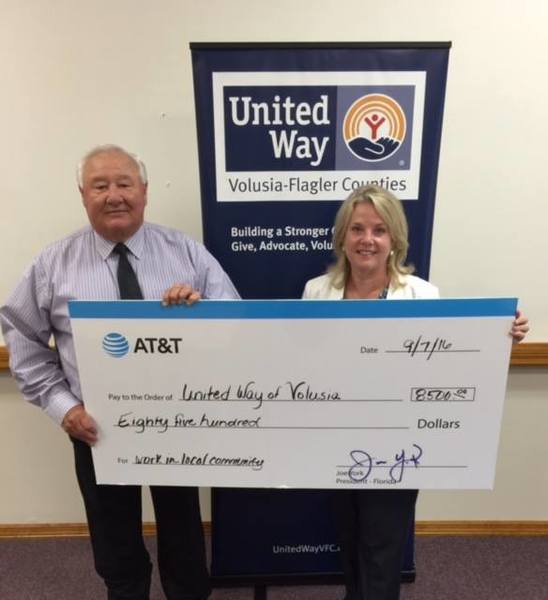 For more than 60 years, AT&T and the AT&T Foundation have supported the United Way nationally and locally.
Today, AT&T continues this legacy of support through a contribution of $8,500 to United Way of Volusia-Flagler Counties. In 2016 alone, AT&T gave $5 million to 500 local United Ways across the country.
United Way VFC will use the contribution to support programs that create long lasting change in the local community.
The United Way is dedicated to improving lives by mobilizing the caring power of communities around the world to advance the common good, as is evident from the work United Way VFC is doing in our local communities. For example, in the past year, our organization funded numerous programs through local nonprofits including several United Way managed programs such as 211, Campaign for Working Families and Help Me Grow.
"
Thanks to our funded agencies, matching grants and efficient programs, United Way is able to transform every $1 donated into $2.75 in services to the community," said Dennis Burn UWVFC President. "That kind of smart investing has allowed United Way to have a nearly $8 million community impact last year!"
In addition to this contribution, each year AT&T employees take part in an employee giving campaign that provides millions of dollars to nonprofit organizations, including the United Way. In 2015, AT&T employees, including employees represented by the Communication Workers of America, the International Brotherhood of Electrical Workers or the Telecommunications International Union, pledged $37.4 million through this campaign.
"AT&T shares United Way's commitment to strengthening communities and improving lives," said Heather Duncan, AT&T Regional Director. "The United Way of Volusia-Flagler Counties' support for programs with proven results in our community improves the lives of our citizens by connecting them with resources and expertise that helps them succeed."
*AT&T products and services are provided or offered by subsidiaries and affiliates of AT&T Inc. under the AT&T brand and not by AT&T Inc.
About Philanthropy & Social Innovation at AT&T:
AT&T is committed to advancing education, strengthening communities and improving lives. Through its community initiatives, AT&T has a long history of investing in projects that create learning opportunities; promote academic and economic achievement; or address community needs. AT&T Aspire is AT&T's signature philanthropic initiative that drives innovation in education by bringing diverse resources to bear on the issue including funding, technology, employee volunteerism, and mentoring. Through Aspire, we've passed the $250 million mark on our plan to invest $350 million in education from 2008-2017.
---
Bookmark & Share
---
User Comments
Be the first to comment on this post below!