BREAKING NEWS FROM THE FLORIDA CAPITOL
Wed, Jul 05, 2023 at 10:35AM
---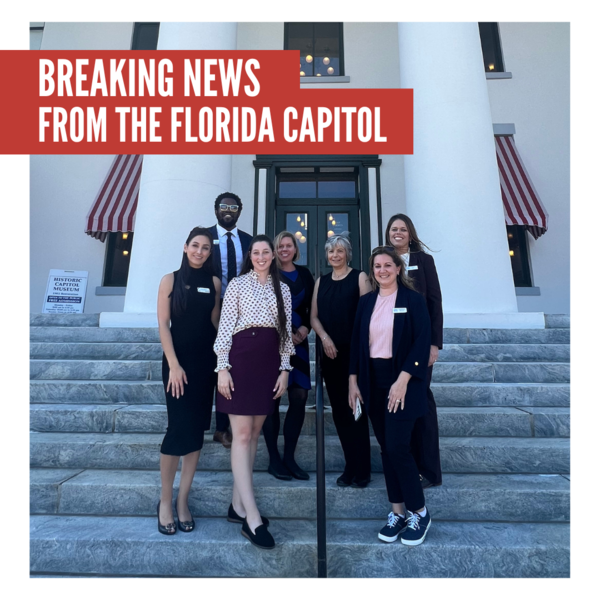 In February 2023, United Way of Volusia-Flagler Counties alongside other United Ways in the State of Florida visited Tallahassee to show support for three bills. The three proposed bills were designed to help individuals in our community and across the state.
SB 102: Live Local Act: This is the largest investment in housing opportunities in state history including $711 million for housing projects as well as incentivizing attainable housing development.
Local Funding Initiative Request S2861 and Appropriations Project Request H1555: Income Tax Consulting and Preparation Assistance: Allocating Funding to the VITA (Volunteer Income Tax Assistance) Program.
HB 121: Florida KidCare Program Eligibility: Increases the income eligibility threshold for coverage under the Medikids program component and Florida KidCare program resulting in increased access for Florida's children.
United Way of Volusia-Flagler Counties is excited to announce that Governor DeSantis signed all three bills. But what does this mean for our community?
SB102 (Live Local Act) increases the attainability of housing for working families living paycheck to paycheck. Especially those who use our partner's services such as the Volusia/Flagler County Coalition for the Homeless, The Neighborhood Center of West Volusia, and First Step Shelter.
"Harry Cole, Executive Director of the Volusia-Flagler County for the Homeless (VFCCH) a United Way-funded partner, shared, "We believe provisions in the Live Local Act (LLA) will speed up the administrative approval and regulatory process to multifamily development. As you are aware the Volusia-Flagler County Coalition for the Homeless has proposed North Street Village, a 60-unit affordable housing development on its property sites which are currently vacant and unused. Under preemptions in the Live Local Act, City staff have the authority to review, increase, and quickly approve new affordable housing developments."
The Appropriations Project Request H1555 provides additional funding for the VITA-free tax preparation program. With the assistance of IRS-certified volunteers who are trained to identify tax payer's eligibility for federal tax credits, the UWVFC VITA program helps low-income families file accurate tax returns and receive the maximum allowable refunds.
"The approval of Appropriations Project Request H1555 –will ensure free tax services are available to underserved populations of hard-working Volusia & Flagler county residents. We thank our local representatives for supporting the appropriations request, allowing UWVFC to increase the serving capacity of our VITA program & continue providing our community with essential tax preparation services." said Lawrence Anderson Community Partnership Manager at United Way who oversees the VITA program.
HB 121: Florida Kidcare bill expands access to the subsidized health insurance program KidCare by broadening eligibility criteria. The bill increases income eligibility limits for the program from 200 percent to 250 percent of the federal poverty level July 2023 and from 250 percent to 300 percent in July 2024. These changes will prevent families from falling off the fiscal cliff as they continue to work hard to increase their household income. Not only will this bill help the community, but it will help our nonprofit partners such as Easterseals of Northeast Central Florida and Children's Home Society and the clients they serve.
"I am so pleased for our families in Florida. Any opportunity to continue developing opportunities for our kids to receive the much-needed care they need is a win for our families. At Easterseals our children oftentimes have limited access to the complex services they need. Increasing the income threshold to qualify for coverage helps remove just one of the barriers our children face every day." Beverly Johnson President and CEO of Easterseals Northeast Central Florida, a United Way funded partner.
---
Bookmark & Share
---
User Comments
Be the first to comment on this post below!