Our mission is to create positive, measurable, long-term change in the lives of women and children by focusing on root causes and pooling resources to increase our impact.
The funds raised through the Women United Flagler Chapter goes to help women and children above and beyond the normal activities of the United Way with 80% of its funds being allocated by Women United to support Flagler County programs and 20% going to the United Way Community Funds, which are then allocated out to the United Way's partner agencies.
2018 Executive Board
President - Maureen Walsh
Vice President - Linda Mahran
Treasurer - Lynn McCormick
Social Chair - Diane Wasney
Marketing/PR Chair - Cindy Dalecki
Fund Allocation Chair - Joanne Tavzel
Community Engagement Co-Chairs - Haylie Allegra & Robbin Wilson
To learn how to get involved with this dynamic group of women contact Cindy Endara at: cendara@uwvfc.org, United Way of Volusia-Flagler Counties.
Membership Guidelines
Active Members
annual dues $50.
listed on social media channels in periodic member spotlights.
highlighted in power point presentation at Power of the Purse.
have the opportunity to complete a bio to be placed on the United Way of Volusia-Flagler Counties website along with a link (if applicable) to your place of employment
Those members who do not wish to pay annual dues but would like to support and be involved will be considered a "Friend of Women United Flagler" and will be invited to attend and support all WUF activities/events but will not receive the benefits listed above for active members.
---
Meet our Members!
Barbara Johanson: My husband, Bob, and I have worked together for nine years as a team of Realtors with Watson Realty Corp in Palm Coast. Our goal is to guide our customers through the complexities of Real Estate transactions. I joined Women United Flagler because I feel it is important to be an active, contributing member of our community and felt this was the perfect way to do so.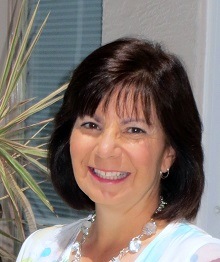 Linda Mahran: Linda Mahran retired after 31 years of service from ITT in 2009. She began her career at a General Motors components plant in Rochester, New York which was later acquired by ITT Corporation. An opportunity to transfer to Palm Coast came in 1997 with a promotion to Transportation Manager for the corporation. Over the next 12 years Linda advanced within corporate procurement to lead the Indirect Global Sourcing team. As a corporate executive, Linda provided leadership to implement on-line procurement solutions throughout the company and her worldwide team was responsible for negotiating corporate agreements for over $3 billion in spend.
Linda participated as the ITT executive on the United Way Volusia Flagler County Board of Governors for several years. She has been actively involved in community service throughout Flagler County. Linda is most proud of her involvement in helping to establish the Women's Initiative of Flagler County (WIF). One of her first accomplishments was to conduct a needs assessment within the county to best determine how the new organization would have a meaningful impact. Linda was awarded the organizations first Woman of the Year award in 2010. She has served in positions of Treasurer, Secretary, and Chairwomen of the Steering Committee, Chicks with Cans Committee and Community Services Committee, and has played an active role in the Philanthropy Committee. In 2016 she was recognized by the organization as Woman of the Year for a second time. Starting in 2017 she has taken on the role of Vice President of the newly renamed Women United Flagler (WUF).
Linda has "Lived United" since her early days with General Motors. The annual United Way campaign provided an opportunity to give to many community organizations through one umbrella organization. At her local Palm Coast ITT office, Linda led the annual United Way campaign with creative kick-off events and coordinated local community service opportunities for employees.
Linda and her husband of over 25 years, Jim Kennard, enjoy golfing and driving their Corvette. She also enjoys yoga, circuit training and running at local 5K events. She has three adult step-children with spouses living in Tampa, Rochester, NY and Boston, and seven grandchildren.
---
THANK YOU chicks!
The Fall 2017 Chicks with Cans food drive was a huge success! We were able to donate over 12,000 lbs of food to Feed Flagler to be used to feed families in need over the holidays. Great job everyone!
We are looking for volunteers for this October to help collect food & monetary donations. If you are interested in learning more about this fun group of volunteers, please contact Linda Mahran @ ljmjrk@bellsouth.net.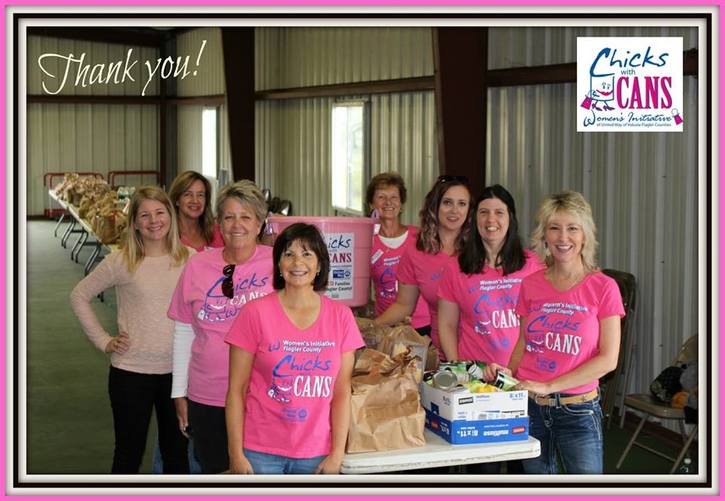 ---