United Way's ALICE Report

United Way coined the acronym ALICE which stands for Asset Limited, Income Constrained, Employed. The ALICE Report places a spotlight on a large population of hardworking residents who work yet have little or no savings, and are one emergency from falling into poverty. The Report, compiled by Rutgers University, is the most comprehensive depiction to date of financial need in each county across Florida, using the latest data from a variety of sources, including the U.S. Census. The Report unveils new measures, based on households' income levels and expenses that quantify the size of who in Florida's workforce is struggling financially, and why.


Key ALICE Report Findings
Nearly 1 in 3 Florida households work hard, live above the Federal Poverty Limit and still cannot consistently afford the basics of housing, food, healthcare, childcare, and transportation..
There are more than 3.6 million households in Florida who do not make enough to consistently afford the basics. This prevents them from saving to protect their family against an emergency (includes those living in poverty).
45% of Volusia Households, 40% of Flagler Households and 46% across Florida do not earn enough to consistently cover the basic living expenses highlighted by the ALICE Threshold.
The cost of living is increasing for ALICE households. From 2007 to 2018, the cost of household essentials(housing, child care, food, transportation, health care, and technology) increased faster than the cost of other goods and services. The ALICE Essentials Index, a new tool that measures change over time in the cost of essentials, increased at an average rate of 3.4% annually nationwide over the past decade, while the official rate of inflation was 1.8%.
Worker vulnerability is increasing while wages stagnate in ALICE jobs. By 2018, a near-record-low number of people were reported to be unemployed. However, that low unemployment concealed three trends that expose ALICE workers to greater risk: growth in the number of low-wage jobs, minimal increases in wages, and more fluctuations in job hours, schedules, and benefits that make it harder to budget and plan. These trends were clear in 2018: A record number of Florida workers — 50% — were paid by the hour, and 65% of the state's jobs paid less than $20 per hour.


The number of ALICE households is increasing in Florida as a result of rising costs and stagnant wages. There are more ALICE households than households in poverty, and the number of ALICE households is increasing at a faster rate. The FPL, with its minimal and uniform national estimate of the cost of living, far underestimates the number of households that cannot afford to live and work in the modern economy. In Florida, the percentage of households that were ALICE rose from 22% in 2007 to 33% in 2018. By contrast, those in poverty fluctuated at around 13% throughout the period.
---
The Report
To access the ALICE data and resources for Florida, go to UnitedForALICE.org/Florida
2022 ALICE in Focus: Disability
2022 ALICE in Focus: Children Video Webinar
2020 ALICE in Flagler County Specific Report
2020 ALICE in Volusia County Specific Report
Past Reports
2018 ALICE in Flagler County Specific Report
2018 ALICE in Volusia County Specific Report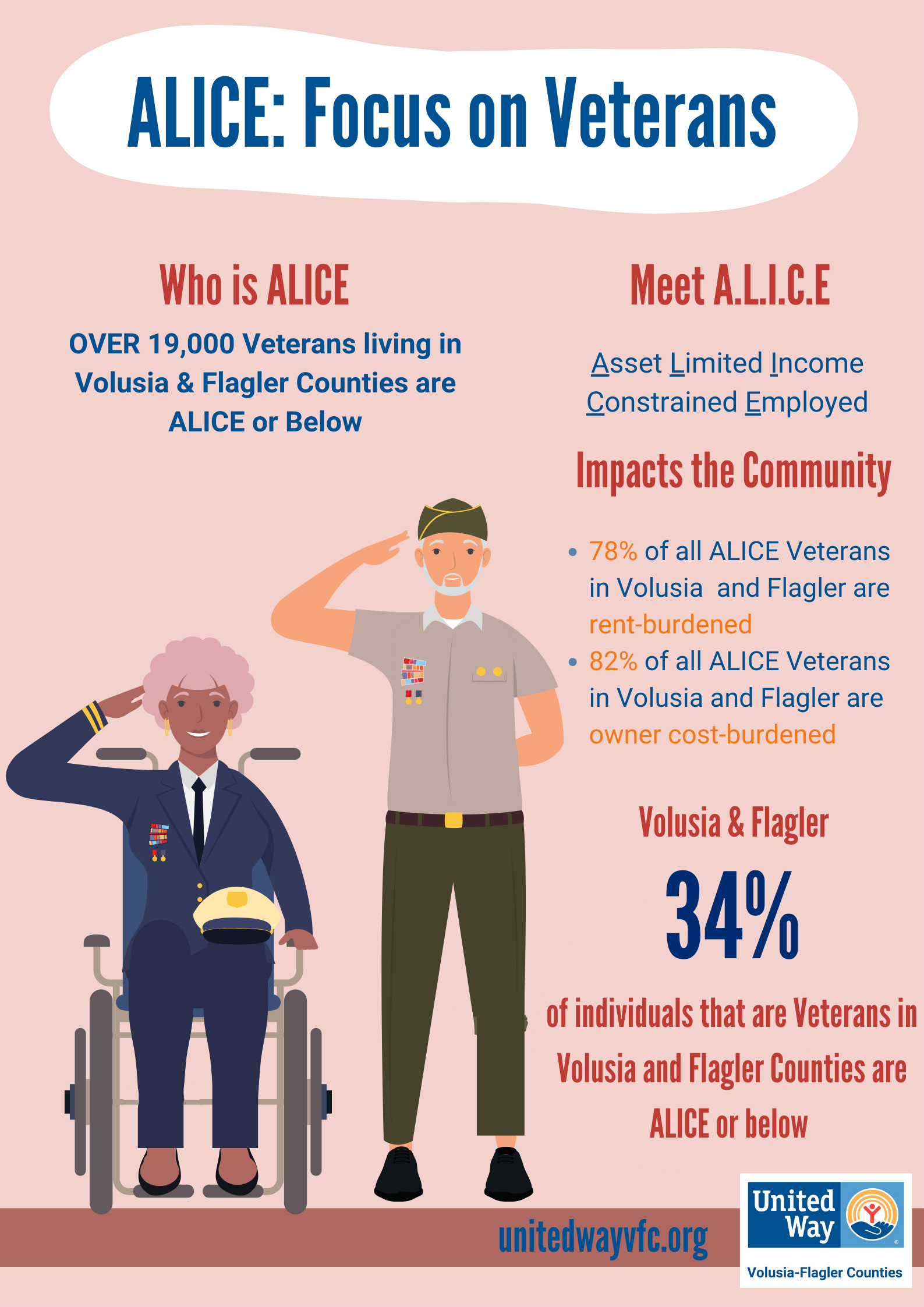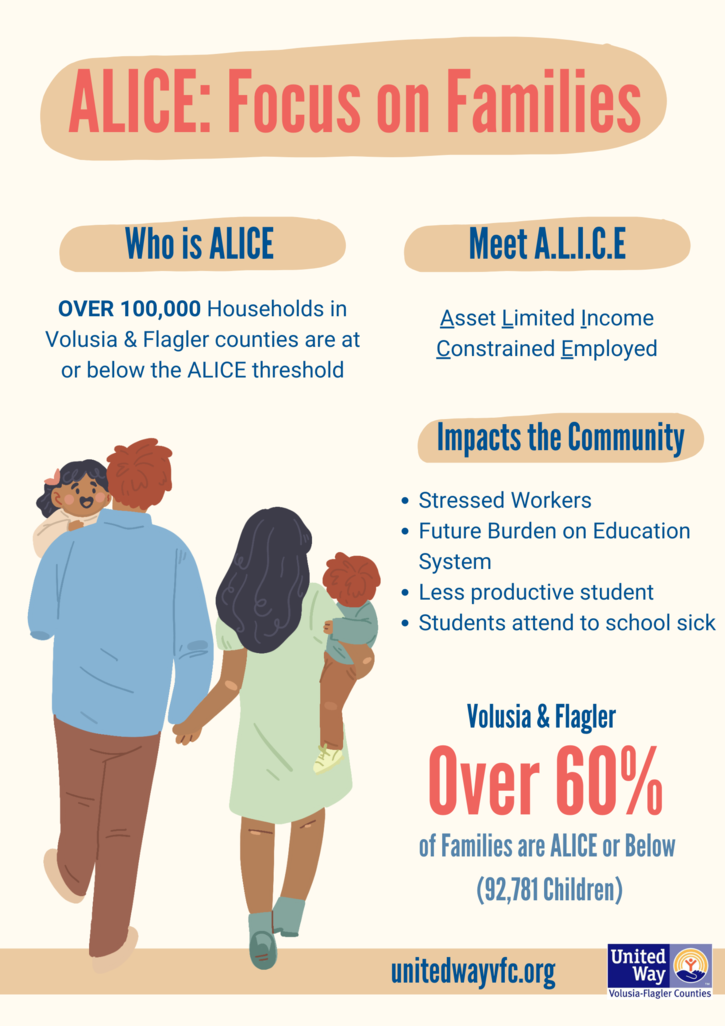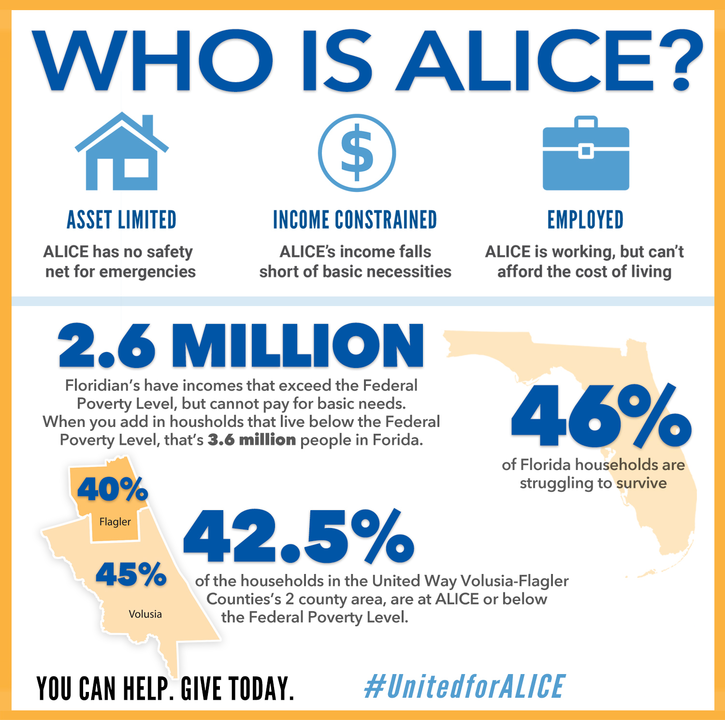 How YOU Can Help ALICE
Raise Awareness
The ALICE population is not new, but the ALICE Report documents for the first time - in some startling ways – their struggles. The ALICE Report is an important tool for us all to consider as we define ourselves, our businesses, and our economy. YOU can share the ALICE Report and to start talking about what this means for our community and our future. Use the hashtag #MeetALICE and share the report.


Sample Tweets: Copy and paste into Twitter or just Follow @yourunitedway and retweet and favorite!
@yourunited is shedding light on those who are struggling in our community unitedwayvfc.org/alice #MeetALICE
45% of our families, can't afford to live here. @yourunitedway wants to get the conversation going. unitedwayvfc.org/alice #MeetALICE
Working hard, but things just arent' working? You're not alone. #MeetALICE @yourunitedway unitedwayvfc.org/alice

Improve Access
Opportunities exist to help ALICE become more stable yet many people do not access them because of insufficient or incorrect information. Share what you know about ALICE and United Way's work in Education, Income and Financial Stability. Contact United Way's 2-1-1 to find already existing programs and services. Help us seek out new solutions for lasting change.
ADVOCATE FOR CHANGE
Raising issues and solutions that are important to you, your business and community's success is essential to promoting true collective impact. United Way needs you to give input, suggest solutions, and speak out on the issues you care about that affect ALICE.