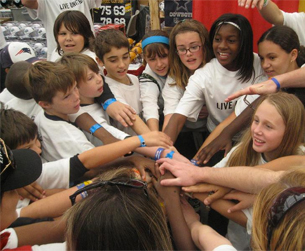 What began as the "Daytona Beach Community Fund" in 1941 has grown into today's United Way of Volusia-Flagler Counties, raising funds for our partner agencies. There is no other charity like United Way. We combine over 50 fund-raisers into one, saving the community-and our agencies-time and money that is better spent helping people. We constantly bring local volunteers and community leaders together to identify and solve local problems.
The United Way of Volusia-Flagler Counties, Inc., (UWVF) is a corporation defined in Chapter 496 of the Florida Statues. Formed for charitable purposes and tax-exempt under Internal Revenue Service Code 501-c-3, we are one of more than 1,800 locally independent United Ways in the United States and throughout the world.
The affairs of United Way of Volusia-Flagler Counties elected by the donors (members) of the organization. All board members are volunteers and each may serve up to two (2) three-year terms. The board of directors is solely responsible for adoption of short-and long-range goals, the administrative budget, allocations of United Way funds, agency admissions and terminations, personal contracts with the president, and other contractual or legal commitments of the Corporation. The board employs a non-voting president, who, in turn, employs other professional and clerical staff within the constraints of the board-approved annual budget. See our current Board of Directors list.
Make a difference, get involved today!